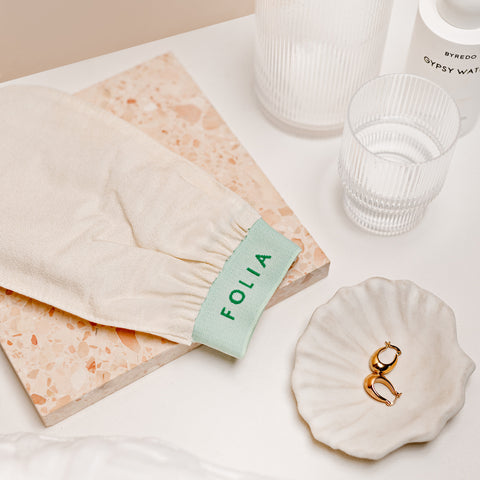 Easy removal of fake tan & helps prep skin for a long-lasting glow.
Silk Exfoliating Fake Tan Removal Mitt
★★★★★ 4.9/5 by 144+ Happy Customers
Say goodbye to dry skin & patchy, stubborn fake tan residue…
Unbelievably soft. Exceptionally efficient. Say goodbye to a patchy, uneven fake tan with our Silk Exfoliating Fake Tan Removal Mitt. This expertly crafted mitt erases stubborn, patchy fake tan with ease, leaving your skin prepped for a flawless reapplication.
Clearer, Glowing Skin in 30 Days or Your Money Back
Are you craving a flawless fake tan? Are you tired of uneven patches and streaks? Our Silk Exfoliating Fake Tan Mitt is here to elevate your bronzed glow!
Bask in the softest silk as our hypoallergenic, handcrafted mitt sweeps away dead skin cells and stubborn tan residue with finesse.
Forget abrasive alternatives; the Silk Exfoliating Fake Tan Mitt gently exfoliates, revealing radiant skin, ready for a flawless, long-lasting bronze glow!
This miraculous mitt is your tanning assistant, promoting a smoother, more even application for a gorgeous, sun-kissed look.
Why settle for less? Embrace the Silk Exfoliating Fake Tan Mitt and transform your bronzed skin game. A stunning tan is just a mitt away!
Benefits
✓ Smooth canvas for optimal fake tan application: Our Silk Exfoliating Fake Tan Mitt removes old, patchy fake tan, leaving your skin smooth and ready for your next application.

✓ Ideal for regular exfoliation & tanning prep: The gentle yet effective exfoliation offered by our pure silk mitt makes it perfect for regular exfoliation and pre-tan preparation.

✓ Easily remove residual fake tan & dead skin cells: Tired of old, stubborn fake tan? Our mitt is designed to effortlessly lift away residual tan and dead skin cells.

✓ Extend and enhance your fake tan's glow: By preparing your skin with our Silk Exfoliating Mitt, you can extend the lifespan of your tan and enhance its glow.

✓ Buff away uneven patches and streaks: Say goodbye to patchy, streaky tans! Our mitt buffs away uneven patches, ensuring a flawless finish every time.
Why Use Our Mitt:
For every sunless tanning aficionado, our Silk Exfoliating Fake Tan Mitt is an absolute essential. Delivering a more intensive exfoliation compared to our regular body mitt, it's specially designed to eradicate patchy, residual fake tan. What you're left with is a sleek, rejuvenated canvas ready to absorb your next fake tan application, promising you an impeccable, streak-free glow.
How to Use The Mitt:
Soak: Submerge or soak the Silk Exfoliating Fake Tan Mitt and your body in warm water until it is fully saturated.

Scrub: Gently massage your skin in a circular motion, paying extra attention to areas laden with remnants of old, uneven fake tan or rough spots.

Splash: After completing your gentle exfoliation, rinse off your skin thoroughly and pat it dry to maintain the moisture balance. Now you're all set to proceed with your go-to tanning routine.
How to Add to Your Routine:
The Silk Exfoliating Fake Tan Mitt is your secret weapon for a seamless tanning routine. Use it once or twice a week as part of your pre-tan ritual. After your bath or shower, glide the mitt over your skin, prioritising areas with lingering fake tan or rough patches. This process prepares your skin for an evenly distributed tan, minimizing streaks and patches. Post exfoliation, rinse off, delicately dry your skin, and proceed with your trusted tanning regimen.

Your skin will thank you for the silky smooth, radiant tan!
Caring for Your Mitt:
After each use, cleanse the mitt under running warm water to remove dead skin and fake tan debris. Resist the urge to wring it out; instead, softly squeeze to eliminate excess water. Drape or hang your mitt in an area with ample air circulation to allow it to dry naturally and maintain its texture and longevity.
Avoid using detergents, soap, or bleach, as this will damage the material.
Shipping Details:
order two mitts to get free express shipping
Shipping via DHL eCommerce: $10.00 USD
Est. Delivery in 3-5 Working Days.
Orders are dispatched within 24 hours from our Melbourne warehouse (Monday-Friday AEST) via DHL. You'll receive a notification with comprehensive tracking information to track your package from our warehouse to your doorstep. To ensure accurate pricing and postage rates, make your purchase on https://us.foliabody.com/.
Returns & Refunds
30 day money-back guarantee
Are you on the fence about trying out Folia Body? Don't sweat it! We have a 30-day money-back guarantee on our exfoliating mitts because we have all the confidence in the world that they'll give you smooth, gorgeous skin and make fake tan removal a breeze.
If you're not satisfied, email us at care@foliabody.com with your order info and we'll take care of the rest.
Change of mind returns
Had a change of heart about your Folia Body purchase? No problem! Just email care@foliabody.com with your order number and the email you used for the order.
If we still need to send out your package, we'll refund you ASAP. If it's already on its way, we'll have to wait for it to return to us. Just make sure to send it back unopened within 30 days of delivery and cover the return shipping costs.
Damaged in transit refunds
If your package has arrived looking like it's been through a rough patch, don't worry! Just email care@foliabody.com with your order number, the email used for your order, and some pictures of the damages.
A Verified buyer is a customer who has purchased this product and was invited to leave a review 14 days after receiving their product, or 30 days post purchase.
How to Exfoliate With Folia Body
Clearer, Radiant Skin in 3 Simple Steps
Step 1:
Soak
Wet your skin thoroughly before exfoliating. Best used in a warm bath or shower. Wet your mitt and squeeze out excess water.
Step 2:
Scrub
Place hand in mitt and firmly glide the mitt up and down to buff away dead skin. No soaps or cleansers required.
Step 3:
Splash
Wash away skin debris with warm water. Rinse mitt (water only), hang to dry. Hydrate your skin with preferred moisturiser.