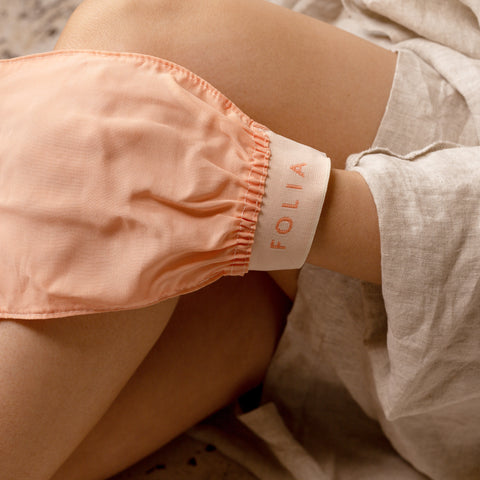 Gently removes dead skin for a soft & smooth complexion.
Silk Exfoliating Body Mitt
★★★★★ 4.9/5 by 151+ Happy Customers
Say goodbye to dry, flaky skin…
Incredibly silky. Impossibly gentle. Meet the secret to your smoothest skin yet – our Silk Exfoliating Body Mitt. Crafted with precision, it sweeps away impurities, leaving your skin feeling remarkably soft and beautifully renewed.
Clearer, Glowing Skin in 30 Days or Your Money Back
Is your skin pleading for rescue? Are you tired of battling rough patches, redness, and blemishes? The Silk Exfoliating Body Mitt is here to whisk you to silky-smooth perfection!
Picture yourself gliding through the softest silk; your skin caressed by a gentle breeze. Our hypoallergenic, handcrafted Silk Exfoliating Body Mitt lifts away dead skin cells like magic.
Forget abrasive alternatives; the Silk Exfoliating Body Mitt treats your skin with the respect it deserves. As it gently exfoliates, you'll reveal radiant, confident skin glowing from within!
This miraculous mitt is your skin therapist, banishing redness and inflammation and conquering bumps, breakouts, and keratosis pilaris.
Why settle for less? Embrace the Silk Exfoliating Body Mitt and transform your skin. Soft, radiant skin is just a mitt away!
Benefits
✓ Gentle, targeted exfoliation for all skin types: Say goodbye to harsh scrubs. Our silk mitt gently exfoliates, respecting your skin's natural balance.

✓ Restored moisture to reduce fine lines: Promotes better absorption of moisturizers to plump up your skin and reduce signs of aging.

✓ Reduce redness and relieve inflammation: Unlike abrasive scrubs, our silk mitt eases inflammation and reduces skin redness.

✓ Purify and clear bumps, breakouts, and acne: By effectively unclogging pores, the silk mitt aids in preventing acne and promoting clear skin.

✓ Decongest pores for clearer skin: Regular exfoliation with our mitt helps rid your skin of excess oils and debris, leaving you with healthy, blemish-free skin.
Why Use Our Mitt:
Are you tired of abrasive body scrubs or harsh, synthetic exfoliating gloves leaving your skin red, raw, and oversensitive? If so, our Silk Exfoliating Body Mitt is your answer.

This mitt doesn't just exfoliate; it respects and nurtures your skin, offering a gentleness that other exfoliating products lack. Experience a new standard of skincare with Folia Body's Silk Exfoliating Body Mitt.
How to Use The Mitt:
Soak: Start by soaking your body in warm water to soften the skin. Then dampen the Silk Exfoliating Body Mitt with warm water.

Scrub: Gently rub your skin in a circular motion. Repeat the motion across your entire body, applying slight pressure.

Splash: Rinse your skin and apply your favourite moisturiser. Use once or twice per week for the best results.
How to Add to Your Routine:
Instead of reaching for your usual body scrub, invite our Silk Exfoliating Body Mitt into your routine once or twice a week. This effortless swap can amplify the efficacy of your cherished body care products by improving their absorption, and simultaneously provide your skin with the gentle exfoliation it craves.
Caring for Your Mitt:
After each use, rinse the mitt thoroughly with warm water. Gently press out excess water gently. Don't ring or twist the mitt too harshly. Hang it up in a well-ventilated area away from direct heat or sunlight to dry. Replace every 3-4 months to maintain optimal hygiene and effectiveness.
Avoid using detergents, soap, or bleach, as this will damage the material.
Shipping Details for United States:
order two mitts to get free express shipping
Shipping via DHL eCommerce: $10.00 USD
Est. Delivery in 3-5 Working Days.
Orders are dispatched within 24 hours from our Melbourne warehouse (Monday-Friday AEST) via DHL. You'll receive a notification with comprehensive tracking information to track your package from our warehouse to your doorstep. To ensure accurate pricing and postage rates, make your purchase on https://us.foliabody.com/.
Returns & Refunds
30 day money-back guarantee
Are you on the fence about trying out Folia Body? Don't sweat it! We have a 30-day money-back guarantee on our exfoliating mitts because we have all the confidence in the world that they'll give you smooth, gorgeous skin and make fake tan removal a breeze.
If you're not satisfied, email us at care@foliabody.com with your order info and we'll take care of the rest.
Change of mind returns
Had a change of heart about your Folia Body purchase? No problem! Just email care@foliabody.com with your order number and the email you used for the order.
If we still need to send out your package, we'll refund you ASAP. If it's already on its way, we'll have to wait for it to return to us. Just make sure to send it back unopened within 30 days of delivery and cover the return shipping costs.
Damaged in transit refunds
If your package has arrived looking like it's been through a rough patch, don't worry! Just email care@foliabody.com with your order number, the email used for your order, and some pictures of the damages.
A Verified buyer is a customer who has purchased this product and was invited to leave a review 14 days after receiving their product, or 30 days post purchase.
How to Exfoliate With Folia Body
Clearer, Radiant Skin in 3 Simple Steps
Step 1:
Soak
Wet your skin thoroughly before exfoliating. Best used in a warm bath or shower. Wet your mitt and squeeze out excess water.
Step 2:
Scrub
Place hand in mitt and firmly glide the mitt up and down to buff away dead skin. No soaps or cleansers required.
Step 3:
Splash
Wash away skin debris with warm water. Rinse mitt (water only), hang to dry. Hydrate your skin with preferred moisturiser.